We offer a complete solutions package of crown, bridge and implants. We have the important temporary solutions to cover all implants. And everything needed for permanent. You can choose from our standard prosthetic assortment with products in all necessary configurations. Or the infinitely customized options available with our Premium solutions.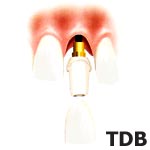 Premium solution with NobelReplace™ Tapered Groovy,
Procera® Abutment and Procera® Crown.