One of the major advancement in dentistry has been the perfection of the devices and techniques for dental implants to replace missing teeth. Typically, Panoramic and periapical radiograps are used to visualize the surgical site. These types of images are often distorted and can only give two dimensional representation of a site that will have a tree dimensional procedure done to it.
Dental CT scan enable our dentist and implantologist to select the best location for your implants and plan the detail of your surgery with pinpoint accuracy because it can illustrates the actual make-up of the bone and provides a three-dimensional distortion-free image that can give the exact location of anatomical structures, the contours of the jawbone, bone quality, bone quantity and the best sites for your implants. An implants procedure can be planed in detail before any surgery takes place.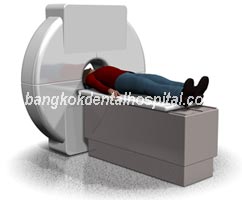 Dental Imaging helps answer the following:
Where each implant should go
How long and wide it should be
At what angle it should be inserted
Whether the bone quality (density) is sufficient
Where the sensitive anatomy is
CT scan process
You barely need to prepare yourself for the CT scan. You may be asked to remove any jewellery from your head and neck. All that you have to do is rest your face up on the CT scanner bed. Your head will be comfortably cushioned on a padded cradle. Keeping still for few minutes that scan takes. The bed will slide through the CT scanner. You will not feel anything and the only part of your body under the scanner will be your head. In less than 15 minutes you will be finished.